The board of directors of St. Vincent Regional Medical Center in Santa Fe, New Mexico, requested support in analyzing the hospital's continued independence in light of growing competition and St. Vincent's commitment to expansion into an underserved community.
The Background
St. Vincent was already a high-functioning medical center when its board retained an advisory team led by a current principal of Newpoint to assess the hospital's growth strategy and options for affiliation. Founded in 1864, the hospital had a long history of support by the affluent members of its Santa Fe community, but its leaders wanted to expand services and strengthen its balance sheet to sustain its mission and allow St. Vincent to expand that mission to the less fortunate surrounding communities. In addition, the hospital's board was growing wary of looming competition from a dominant Albuquerque regional health system that was threatening to enter the local market.
The Solution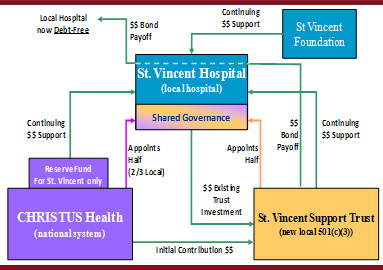 The team led a full assessment to determine the ability to achieve its goals with continued independence. Based on that analysis a full exploration of alternatives over several meetings, the board and hospital management determined it should consider attracting a like-minded partner to provide capital and other resources while agreeing to share control with the local 501(c)(3). Accordingly, the team helped the leadership develop its Community Objectives™ and led a comprehensive process in which more than 10 candidates submitted initial proposals for consideration.
The board achieved a 501(c)(3) "joint membership" solution that kept the original 1864 independent entity intact, while inviting a large, talented and financially stable Catholic system to join St. Vincent's newly formed supporting trust as an equal co-sponsor while infusing a substantial amount of capital to fund the local development plans.
The Result
St. Vincent added an equal co-sponsor to its existing local 501(c)(3) and now has the benefit of a relationship with a $4.5 billion faith-based health system while retaining its 140-year old corporate charter as a local nonprofit organization.